REGUPOL everroll vitality
Product Details
Our REGUPOL everroll vitality provides your customers with a secure stance for their exercises and is extremely comfortable and resilient.
Our REGUPOL everroll vitality fitness floor is used in a wide variety of applications in fitness centres. Its elasticity helps to ensure that your customers have a secure footing when performing their exercises and can train in a way that is easy on their joints. Your clientele will really appreciate the high level of comfort that the floor offers. Our flooring is extremely durable and can withstand heavy loads. With our REGUPOL everroll vitality flooring, you will certainly have the right fitness floor for your fitness centre, as it maintains its slip resistance even when wet.
Our fitness floor can also give your creativity a free rein: you have a wide variety of decors to choose from. In addition, you can obtain this product in the edition 4.0 version. The benefit here is that the colours appear brilliant in any lighting and the surface does not reflect incident light.
Colour and pattern selection
Features
---
comfortable
robust
durable
sustainable
non-slip
Technical Specifications
---
Product
resilient floor covering made of PUR-bonded SBR-granulates,
with 50 % EPDM colour content
Standard Roll Dimensions
width: 1,250 mm
Length: 10 m | 15 m | 20 m
Thicknesses: 4 mm, 6 mm, 8 mm, 10 mm, 12 mm
Weight
approx. 1.18 kg/m²/mm
Standard Dimensions Puzzle Tiles
Outer dimensions: 600 x 600 mm
Thickness: 6 mm
Slip resistance
R 10 according to DIN 51130 (02.2014) and ASR A1.5/1.2
Impact resistance
> 21 Nm following EN 14904 / EN 1517
Force reduction
Up to 15 % in accordance with EN 14904 / EN 14808
Impact sound reduction
Testing based on DIN EN ISO 10140, REGUPOL everroll classic 8 mm = 19 dB
Fire classification
Dfl s1 based on EN 13501-1:2010-01 / EN9239-1:2010-11 at REGUPOL everroll vitality, 4 mm
Colours
Approx. four standard colours, individual colours available on request
Recommended thicknesses for application areas
Cardio & machine training: 6 - 10 mm
Free weight training & weightlifting: 8 – 12 mm
Indoor cycling: 4 – 10 mm
Trampoline parks: 4 mm
Information
Further technical data is available on request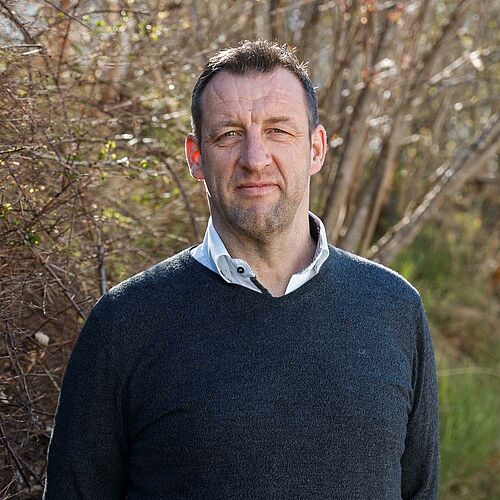 Your contact at REGUPOL
We're here to help.
Thomas Beitzel
REGUPOL BSW GmbH
Sales Director International
go back