REGUPOL playfix structure
Product details
This variation of our seamless safety floor not only scores with its outstanding fall protection properties, but also with the natural look of its bark mulch structure.
REGUPOL playfix structure offers excellent fall protection properties, but that's not all. With its wear layer of synthetic mulch, it also opens up an entirely new range of design possibilities. This structure gives the surface a three-dimensional character. In green, the mulch is reminiscent of grass, in brown or beige tones, it looks like bark mulch and in red, it resembles leaves of a forest floor. Like all our seamless safety floorings, REGUPOL playfix structure can also be installed on undulating or sloped surfaces. The in-situ installation of the seamless safety flooring allows it to adapt itself to minor irregularities in the substrate without any problems. A safe, barrier-free play area is guaranteed.
Mulch made of synthetic rubber is perfectly suited to long-lasting flooring surfaces: it allows professional gardeners, landscape gardeners, landscape architects and local authorities to implement creative spaces and modern designs. Like all our safety floors, the mulch surface is also securely fixed to the substrate. For you, this means no material replacement or redistribution and no hidden maintenance costs, in comparison to loose fall protecting materials. Playgrounds with REGUPOL playfix safety surfaces provide uniform fall protection over the entire flooring. Synthetic mulch surfaces are the hygienic and economical alternative to organic mulch.
Colour and pattern selection
Features
---
Protective function
Safety
Long service life
Can be repaired
Can be modelled
Cannot be dispersed through play
Water permeable
Barrier-free
Chlorine resistant
Resistant to de-icing salt
Seamless
Certified
Weather resistant
Fire protective
Slip-resistant
Lightfast
Technical Specifications
---
Material
Wear layer consisting of fully dyed through EPDM new rubber granules mixed with a PU binding agent; Base layer consisting of rubber granulate mixed with a PU binding agent
Structure
Two-layer structure consisting of wear layer and base layer
Dimensions / Weight / Maximum fall height
40 + 20 mm | 1.60 m
65 + 20 mm | 2.30 m
90 + 20 mm | 3.00 m
Maximum fall height
1.60 m – 3.00 m, depending on safety floor's overall thickness
Impact attenuation test in acc. with DIN EN 1177
Installation
The flooring is installed by our trained and qualified technicians.
Services
Product sample service, Tender text/specification, individual consulting worldwide, internal quality certificates, On site quality and function testing
Line marking and lettering application, Inlays and prints, Customized product development and design, Cleaning and maintenance, Repairs, re-topping and renovation, Installation on schedule, REGUPOL advertising
Network of suppliers, planners and service providers, External certification
REGUPOL playfix structure
1 Unbound (or bound) base course according to DIN 18035-6
2 REGUPOL base layer, manufactured on site, thicknesses 35 to 120 mm
3 Wear layer of PUR-bonded, completely dyed-through EPDM mulch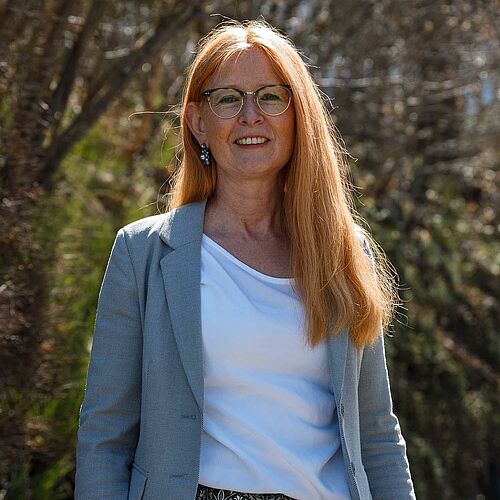 Your contact at REGUPOL
We're here to help.
Sabine Rehberg
REGUPOL BSW GmbH
Sales Manager International
go back