REGUPOL playfix indoor
Product details
Our high-quality safety floor for all indoor play areas combines safety and an easy-to-clean surface with a wealth of design potential.
Indoor playing areas and playgrounds are just as popular as their outdoor counterparts. And so, floors on indoor play areas, whether in hospitals, airports or shopping malls, etc., have to be just as safe. Conventional safety and fall protecting floors are designed for outdoor areas. Their porous surfaces are not suitable for the standard of cleaning required on indoor surfaces. That's why we have developed a floor that fulfils the fall protecting safety requirements and at the same time has a hygienic, odourless and easy-to-clean surface. Our indoor safety floors are available in two variations, depending on the fall heights that need to be covered. One of the most important properties of this flooring is its low flammability, as this has a significant role to play in indoor areas. REGUPOL playfix indoor is classified as a low flammability surface (Cfl-s1) and also provides reliable impact sound insulation.
Single-colour floors can be found everywhere. But when it comes to playing surfaces for children, why be satisfied with monotony? The floor's appearance sets the tone for play areas based on creativity and variety. The seamless, smooth surface of our indoor safety floors can be installed in an endless range of designs, colours and functions. We can incorporate logos, lettering, symbols and many other motifs into your floor, according to your wishes. With a great range of colours to choose from for your design, there are scarcely any limits to your creativity.
Colour and pattern selection
Features
---
Acoustics
Safety
Certified high-quality production
Can be repaired
Sustainable
Hygiene
Aesthetic
Resistant to disinfectant
Seamless
Certified
Can be cleaned
Fire protective
Slip-resistant
Low flammability
Technical Specifications
---
Material
Wear layer: seamless polyurethane coating with a coloured finished
Base layer: PUR-bonded composite foam, special fabric mesh
Maximum fall height
Up to is 3.00 m, depending on overall thickness of safety floor
In acc. with ISP test report no2627416/1
Reaction to fire
Reaction to fire classification: Cfl -s1
acc. to DIN EN 13501-1:2010
Classification report no. 2011-B0119/01
Slip risk
R10 high slip resistance
Tested in acc. with DIN 51130
Installation
Installation is carried out by our trained and qualified technicians.
Services
Online spatial simulation, Product sample service, Tender text/specification
individual consulting worldwide, internal quality certificates, On-site quality and function testing, Line marking and lettering application, Inlays and prints, Customized product development and design, Cleaning and maintenance, Repairs, re-topping and renovation, Installation on schedule
REGUPOL advertising, Equipment and accessories, External certification
REGUPOL playfix indoor 60 pu
1. Screed
2. Adhesive
3. Composite foam (60 mm thick)
4. Plastered fabric mesh, two coats
5. Grey PU layer (approx. 2 mm)
6. Coloured finish
REGUPOL playfix indoor 65/20 pu
1. Screed
2. Adhesive
3. Composite foam (60 mm thick)
4. Composite foam (65 mm thick)
5. Plastered fabric mesh, two coats
6. Grey PU layer (approx. 2 mm)
7. Coloured finish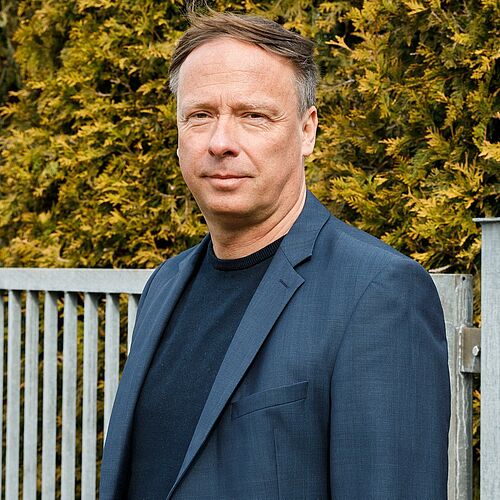 Your contact at REGUPOL
We're here to help.
Olaf Brinkmann
REGUPOL BSW GmbH
Sales Manager International
go back