REGUPOL playfix FXG
Product details
Our single layer safety tile is a successful compromise between long-term durability and cost efficiency. Maximum fall height is two metres.
The REGUPOL playfix FXG safety tile is the more cost-effective version of our REGUPOL playfix safety tiles. The material composition is simpler as these safety tiles are made of granulate and have a single layer structure. REGUPOL playfix FXG is designed for fall heights of up to 2 metres. It has slightly lower toughness and resilience levels than the REGUPOL playfix FX safety tile, but still offers our well-known REGUPOL safety, while reducing costs.
Colour and pattern selection
Features
---
Acoustics
Safety
Certified high-quality production
Sustainable
Hygiene
Cannot be dispersed through play
Water permeable
Resistant to de-icing salt
Certified
Weather-resistant
Can be cleaned
Slip-resistant
Fast installation
Technical Specifications
---
Material
PUR binder, components made of synthetic rubber (coloured)
Structure
Single-layer structure with a studded underside for drainage and elasticity; central dummy joint on the top side, edges with dowel holes
Dimensions / Weight / Maximum fall height
1,000 x 500 x 50 mm | approx. 34 kg/m² / 1.50 m
1,000 x 500 x 70 mm | approx. 46 kg/m² / 2.00 m

Tolerances: Length/width +/- 1% | thickness +/- 2mm
Maximum fall height
1.5 to 2 m, depending on overall safety tile thickness,
Fall protection testing in acc. with DIN EN 1177
Installation
On concrete, asphalt or compacted bed of crushed stone / gravel
Accessories
Plug-in dowels, one-component adhesive

Please note:
The MVVTB (Model Administrative Provisions – Technical Building Rules) and entry 50 of the REACH Annex XVII contain requirements products and floor surfaces have to meet. Please check to make sure that your intended application for our products conforms with these requirements.
Services
Online spatial simulation, Product sample service, Tender text/specification, individual consulting worldwide, internal quality certificates, On-site quality and function testing, Line marking and lettering application, Inlays and prints, Customized product development and design, Private labelling
Cleaning and maintenance, Repairs, re-topping and renovation, Equipment and accessories, External certification
Country-specific requirements must be complied with. We will be happy to advise you regarding the product you want to buy.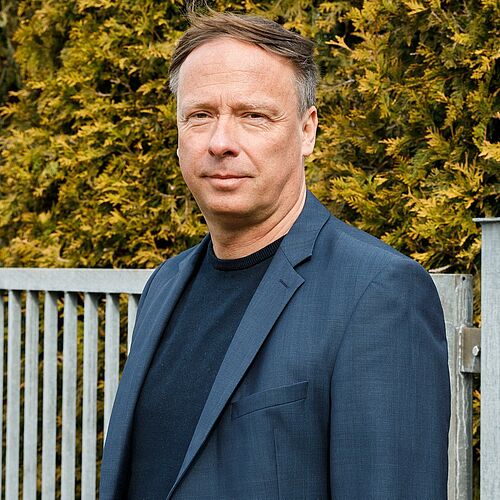 Your contact at REGUPOL
We're here to help.
Olaf Brinkmann
REGUPOL Germany GmbH & Co. KG
Sales Manager International
REGUPOL playfix FXG: single-layer; practical and good
Our single-layer safety tile with cost benefits is made of homogenous material. The studs on the underside facilitate drainage, provide elasticity and allow cable routing underneath the tiles. The edges have dowel holes to enable the tiles to be connected together securely. The appropriate dowels for the REGUPOL playfix safety tiles can also be obtained from us.
go back