REGUPOL playfix fun
Product details
When it comes to fall protection and design, this is our seamless multi-talent. It is suitable for fall heights of up to three metres and its smooth, even surface makes it ideal for countless designs.
When it comes to creativity and design on playing surfaces, our seamless safety flooring is quite simply unbeatable. The in-situ installation makes it highly versatile and opens up a wealth of creative uses, combined with the same tested and certified safety of all our safety floorings. It is suitable for fall heights of up to 3 metres.
Our seamless safety flooring can be laid on level, convex or sloped surfaces (up to 45°). This enables you to design and create very diverse playing landscapes, encouraging children to play actively and independently. The form and colour of our safety floors stimulates all the senses, while the smooth, even surface ensures all our seamless safety floors are integrative and barrier-free.
REGUPOL playfix fun is also available without fall protection properties. As a decorative, elastic secondary surface around playgrounds or other public pathways and squares, it provides a genuine boost for the layout and design of public spaces.
The thickness of the lower base layer, between 35 and 120 mm, can be adjusted precisely to the required fall heights and is applied to the substrate in a semi-liquid state. The colour and the design on the upper wear layer can be chosen by you. If no fall protection is needed, the base layer will not be installed, leaving you with an elastic, decorative synthetic surface for pathways, squares and much more. We take on the in-situ installation of our seamless safety floors for you, as this requires experience and expertise, something our trained technicians have in abundance. We've been installing our seamless safety floors in demanding properties and locations for years and are very familiar with the most diverse structural and installation conditions.
Colour and pattern selection
Features
---
Protective function
Safety
Long service life
Can be repaired
Can be modelled
Cannot be dispersed through play
Water permeable
Barrier-free
Chlorine resistant
Resistant to de-icing salt
Seamless
Certified
Weather resistant
Fire protective
Slip-resistant
Lightfast
Technical Specifications
---
Material
Wear layer consisting of fully dyed through EPDM new rubber granules mixed with a PU binding agent.
Structure
Two-layer structure consisting of wear layer and base layer
Thickness of base layer + wear layer / Maximum fall height
35 + 10 mm | 1.36 m
50 + 10 mm | 1.73 m
65 + 10 mm | 1.90 m
75 + 10 mm | 2.33 m
85 + 10 mm | 2.50 m
120 + 10 mm | 3.00 m
Maximum fall height
1.36 m – 3.00 m, depending on safety floor's overall thickness
Impact attenuation test in acc. with DIN EN 1177
Anti-slip behaviour
Complies with assessment group R10 (optional, R11 also possible). Certified by the DGUV.
Installations
The flooring is installed by our trained and qualified installers/technicians.
Services
Online granulate colour mixer, Online room simulation, Product sample service, Tender text/specification, individual consulting worldwide, internal quality certificates, On site quality and function testing, Line marking and lettering application, Inlays and prints, Customized product development and design, Cleaning and maintenance, Repairs, re-topping and renovation
Installation on schedule, REGUPOL advertising, Network of suppliers, planners and service providers, External certification
REGUPOL playfix fun with fall protection
1 Unbound (or bound) base course according to DIN 18035-6.
2 REGUPOL base layer, manufactured on site, thicknesses 35 to 120 mm
3 Wear layer of PUR-bonded, completely dyed-through EPDM granules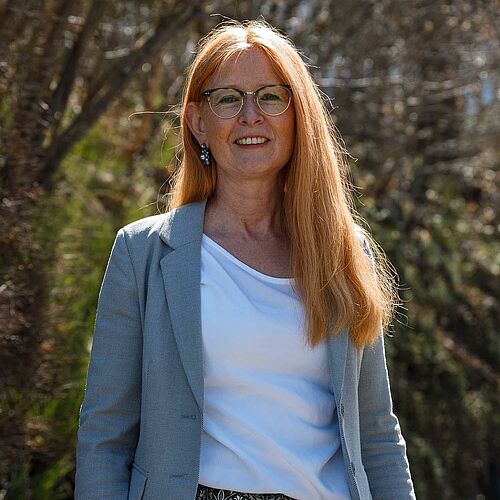 Your contact at REGUPOL
We're here to help.
Sabine Rehberg
REGUPOL Germany GmbH & Co. KG
Sales Manager International
go back