REGUPOL playfix aqua
Product details
This seamless safety floor, specially designed for use in wet areas, offers the same level of REGUPOL-SAFETY as all our safety surfaces.
Playing in water holds a particular attraction for both young and old. We provide the necessary safety boost for water games with our seamless safety floor REGUPOL playfix aqua, which we developed specially for wet zones. This allows children to run around barefoot and playfully discover the element that is water. The synthetic floor is pleasantly soft and minimises the risk of slipping. No puddles can form permanently on this water permeable surface and the material does not release any harmful substances into chlorinated water.
For the watercourse effect, our safety floor can be modelled to imitate the course of natural streams and brooks. Channels and gutters can also be covered with this synthetic flooring, as can hills and slopes for running down. The colouring of the surface can also be designed to reflect the water's natural environment.
We can install REGUPOL playfix aqua either with or without an elastic safety sub-layer, depending on whether your surface needs fall protection properties or serves a solely decorative purpose. We will be happy to advise you on the appropriate sub-structure for your project and answer any questions you may have about surfaces for water playgrounds and open-air swimming pools. Professional installation will be taken care of by our experienced fitters.
REGUPOL playfix aqua also offers a range of benefits when it comes to hygiene. Dirt and other contamination remain visible on the surface and can be removed easily. Playing equipment anchors can be seamlessly enclosed to prevent any contamination accumulating in gaps between anchor and floor surface. Numerous water playgrounds, splash pads, open air pools and surrounds for swimming and paddling pools have already been fitted with our REGUPOL playfix synthetic floorings.
Colour and pattern selection
Features
---
Protective function
Safety
Long service life
Can be repaired
Can be modelled
Cannot be dispersed through play
Water permeable
Barrier-free
Chlorine resistant
Resistant to de-icing salt
Seamless
Certified
Weather resistant
Fire protective
Slip-resistant
Lightfast
Technical Specifications
---
Material
Wear layer consisting of fully dyed through EPDM new rubber granules mixed with a PU bonding agent; base layer consisting of rubber granules mixed with PU bonding agent (not for REGUPOL playfix aqua without fall protection)
Structure
Two-layer structure consisting of wear layer and base layer (not for REGUPOL playfix aqua without fall protection)
Thickness of base layer + wear layer / Maximum fall height
35 + 10 mm | 1.36 m
50 + 10 mm | 1.73 m
65 + 10 mm | 1.90 m
75 + 10 mm | 2.33 m
85 + 10 mm | 2.50 m
120 + 10 mm | 3.00 m
Maximum fall height
1.36m – 3.00m, depending on safety floor's overall thickness
Impact attenuation test in acc. with DIN EN 1177
Anti-slip behaviour
Complies with assessment group R10 (optional, R11 also possible). Certified by the DGUV.
Installation
On bound or unbound sub-bases in acc. with DIN 18035-6. Installed by our trained and qualified fitters.
Services
Online granulate colour mixer, Online room simulation, Product sample service, Tender text/specification, Individual consulting worldwide, Internal quality certificates, On site quality and function testing, Line marking and lettering application, Inlays and prints, Customized product development and design, Cleaning and maintenance, Repairs, re-topping and renovation
Installation on schedule, REGUPOL advertising, Network of suppliers, planners and service providers, External certification
REGUPOL playfix aqua with fall protection
1 Unbound (or bound) base course according to DIN 18035-6.
2 REGUPOL base layer, manufactured on site, thicknesses 35 to 120 mm
3 Wear layer of PUR-bonded, completely dyed-through EPDM granules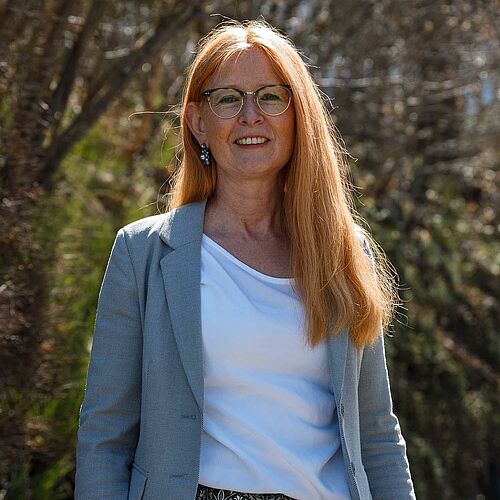 Your contact at REGUPOL
We're here to help.
Sabine Rehberg
REGUPOL Germany GmbH & Co. KG
Sales Manager International
go back