REGUPOL playfix palisade
Product details
Our versatile elastic boundary palisades for variously shaped play areas, balancing circuits or seating areas combine the fun factor with a protective function.
Robust and shock-absorbing, REGUPOL Palisades are versatile border and edging elements with a play function, but with safety as their main priority. REGUPOL Palisades are used to make borders around sand pits and safety-tiled areas, around trees and other spaces. But can also be used as 3D design elements on playgrounds. As balancing circuits or seating, they can really add value to playing and recreation areas. The risk of injury caused by slipping is comparatively low, because REGUPOL palisades are made of the same elastic material as all our REGUPOL playfix safety floors. That's why REGUPOL Palisades are pleasantly soft and warm to sit on. REGUPOL Palisades can be put together to form curves or the installation height can be varied to create other designs. The palisades are also available as chain elements.
Colour and pattern selection
Features
---
Safety
Certified high-quality production
Sustainable
Weather-resistant
Can be cleaned
Technical Specifications
---
Material
PUR-Bindemittel, Komponenten aus Synthesekautschuk (eingefärbt) oder Ethylen-Propylen-Dien-(Monomer)-Kautschuk in der Verwendung als EPDM-Granulat
Material in der EU
Ethylen-Propylen-Dien-(Monomer)-Kautschuk in der Verwendung als EPDM-Granulat
Ausführung
Mit Hohlkehle und abgeschrägtem Ankerrohr.
Abmessung / Gewicht
400 x 250/200 mm / ca. 17 kg/m²
600 x 250/200 mm / ca. 24,5 kg/m²

Toleranzen: Länge/Breite +/- 1% | Dicke +/- 2mm
Abmessung / Gewicht in der EU
400 x 250/200 mm / ca. 21 kg/m²
600 x 250/200 mm / ca. 31 kg/m²
Toleranzen: Länge/Breite +/- 1% | Dicke +/- 2mm

Zugfestigkeit
703 kPa

Dehnung
55 %

Weiterreißversuch
6,3 N/mm
Installation
REGUPOL Palisaden werden in einem Betonuntergrund verankert. Pro Laufmeter werden 5 Palisaden benötigt.

Hinweis:
Die MVVTB und Anhang XVII Eintrag 50 REACH enthalten Anforderungen an Produkte und Bodenbeläge. Bitte prüfen Sie daher, ob die von Ihnen geplante Verwendung unserer Produkte diesen Vorschriften genügt.
Services
Ausschreibungstext/ Spezifikationen
individuelle weltweite Beratung
interne Qualitätszeugnisse
individuelle Produktentwicklung und Design
Reinigung und Pflege
Country-specific requirements must be complied with. We will be happy to advise you regarding the product you want to buy.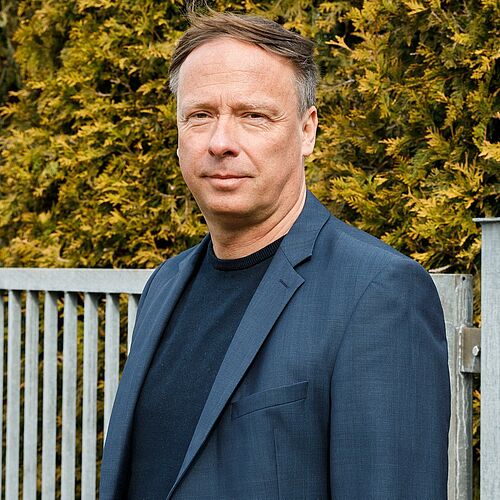 Your contact at REGUPOL
We're here to help.
Olaf Brinkmann
REGUPOL BSW GmbH
Sales Manager International
Easy installation – great fun for play grounds
Installing REGUPOL Palisades is extremely easy: the palisade is installed flush at the correct height in fresh concrete using the factory installed, slightly angled ground anchor. The concrete is then compacted. The entire height of the elastic palisades can be used and they can be installed without any gaps between them, thanks to the concave fillet. Our REGUPOL Palisades are a perfect supplement to our synthetic safety tiles, as are all REGUPOL moulded products for children's play grounds and other recreational areas. All our moulded products contribute to making play grounds that little bit safer.
go back