REGUPOL everroll alpine SF
Product Details
REGUPOL everroll alpine SF can withstand transport trolleys, ski boots and skiing equipment.It is slip-resistant and easy to install.
Are you looking for a suitable floor surface for your winter sports facility? You want a floor that is suitable for the use of transport trolleys, can withstand ski and snowboard boots, has a construction height of approx. 22 mm, is pleasant to walk on and can also be laid on gratings? Then our REGUPOL everroll alpine SF tile for winter sports facilities is the right solution for you. The tile is resistant to mechanical impact as well as being impact and shock resistant. It also provides flame retardant properties.
Guests in your winter sports facility well feel the benefit of a stable and safe floor surface - even when wearing ski and snowboard boots. Due to its material composition, the elastic tile is noticeably comfortable and features a slip-resistant surface. It also has good acoustic properties. This ensures sound reduction where excessive noise from movements on walkways or transport routes is concerned. The surface of our REGUPOL everroll alpine slab is water-permeable, which largely prevents puddles forming.
Our tile for winter sports facilities is easy to lay and is particularly suitable for installation on grating. Thanks to its material composition, it is extremely resilient and can easily withstand transport trolleys rolling over it.
Are you interested in our REGUPOL everroll alpine SF tiles for winter sports facilities? Feel free to contact us. We'll be happy to help you choose the right flooring for your project.
Colour and pattern selection
Features
---
durable
sustainable
de-icing salt resistant
weather resistant
non-slip
quick to lay
trafficable
Technical Specifications
---
Product
Elastic sheet material made of PUR-bonded EPDM-granules, with 100 % EPDM colour content.
Fields of application
Mountain and base station
Standard dimensions
1,000 x 500 mm, dummy joint at 500 mm
Weight
approx. 26.4 kg/m²
Slip resistance
R 10 according to DIN 51130 (02.2014) and ASR A1.5/1.2
Impact resistance
> 21 Nm following EN 14904 / EN 1517
Force reduction
Approx. 23 % following EN 14904 / 14808
Fire classification
Cfl s1 in accordance with EN 13501-1:2010-01 / EN9239-1:2010-11
Salt water resistance
resistant according to DIN EN ISO 175
Colours
Two standard colours, individual colours available on request
Information on newly installed tiles for outdoor use
After installation of our REGUPOL everroll alpine SF tiles, there may be short-term differences in the visual appearance on the tile surface, which are caused by release agents used in the production process. As the tiles are gradually weathered, their colour is restored. Only selected and certified raw materials are used for the production of the tiles. During the production process, technical reasons can lead to colour deviations due to the distribution of the granulate. To ensure consistency we recommend that, if possible, the full order of tiles is selected and collected at the same time to prevent such deviations. Should you require an exceptionally high UV resistance, we will of course be happy to comply with your request. Please contact us if this is the case.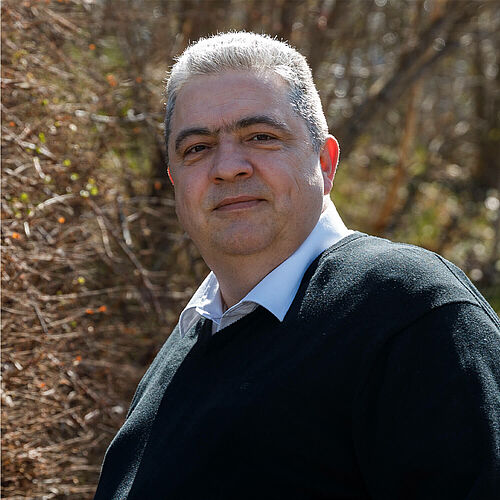 Your contact at REGUPOL
We're here to help.
Carsten Pohl
REGUPOL BSW GmbH
Sales Manager Germany
Quick to install and versatile in application – our tile product for winter sports facilities
Our REGUPOL everroll alpine SF tile is usually installed along longitudinal edges and should be glued to a suitable substrate. It can also be installed on grids and gratings. This means that with our REGUPOL everroll alpine SF tiles, you will also be able to lay pathways and create new surfaces yourself.
If you have any questions about installation, just contact our experts. We'll be happy to help you.
go back