REGUPOL climb 42
Product details
Our REGUPOL climb 42 climbing hall floor combines fall protection properties and safety with aspects of well-being.
With our climbing hall floor REGUPOLclimb 42, you'll always be on the safe side. Its high force reduction and good fall protection properties minimize the risk of injury from falls, while simultaneously putting the belayer on the ground on a secure footing. But our climbing hall floor doesn't only generate feelings of safety but also a pleasant atmosphere. This is because REGUPOLclimb 42 is highly elastic, making it extremely pleasant to walk on. And it's also suitable for underfloor heating systems.
Climbing center visitors are often completely unaware of the work that's done behind the scenes: cleaning, maintenance, re-setting the climbing route. Our climbing hall floor can help with this a little. Thanks to its robust and seamless PU wear layer, you can drive certain types of elevating platforms across it - if you keep the load limitations in mind - and easily clean it afterwards.
Do you have any questions about our REGUPOLclimb 42safety floor? Just contact us, we'll be happy to advise you.
Color and pattern selection
Features
---
seamless
easy to clean
durable and resilient
Technical Specifications
---
Material composition
Wear layer: approx. 2 mm polyurethane, seamless and with colour finish, mesh fabric
Elastic layer: 40 mm REGUPOL Sheets made of PUR bonded rubber fibres
Areas of application
Indoor climbing
Fire classification
C.fl-s1
Service
Product sample service, individual worldwide consulting, external certification, internal quality certificates, lines and lettering.
Installation
The transfer is carried out by REGUPOL fitters.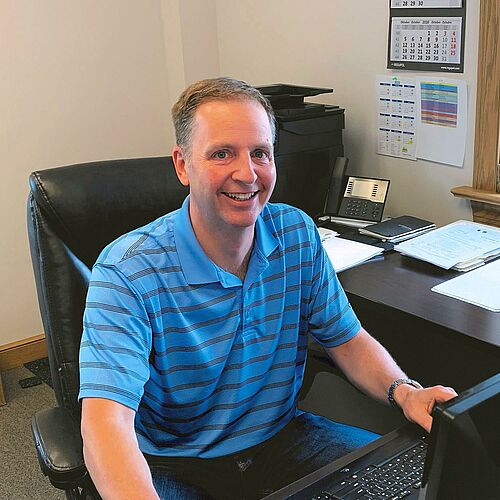 Your contact at REGUPOL
We're here to help.
John Aten
REGUPOL America LLC
Vice-President of Sales USA
All-round service with REGUPOL
We are a single source supplier. As knowledge and expertise is required to install our floors, we deliver our climbing hall floor REGUPOL climb 42 including installation, which our fitters will carry out directly on site. In addition, we'll be happy to give you information on planners and designers who can offer you support and assistance during your project. And we will also be glad to answer any questions you may have about the safety floor itself, for instance when it comes to cleaning your REGUPOL climbing hall floor. For minor repairs, we'll supply you with a repair kit, so you'll be able to carry out initial improvements on site yourself. Just ask us!
go back