REGUPOL aktivpro High-Performance Rubber Tiles
Heavy-Duty Modular Rubber Tiles
1-in x 24-in x 24-in tile
(Standard and ADA Reducer Available)
The heavyweight of gym equipment will not affect REGUPOL aktivpro tile, and the daily abuse from moderate to extreme weight drops is no match. Each 2' x 2' x 1" modular tile consists of a factory molded waffle bottom base topped with a wear layer for design and color. Inside is a proprietary inner layer for stability and durability. Its design provides superior noise and shock absorption, and it can be installed with adhesive or dowels, so no adhesive is required.
REGUPOL aktivpro tile is recommended for both commercial and residential applications. It's perfect for CrossFit, Olympic style lifting, free weights, cardio and functional training areas, selectorized strength, and weight rooms at all levels—high school, collegiate, and professional.
Installation Flexibility
The choice is yours. Two installation methods are practiced.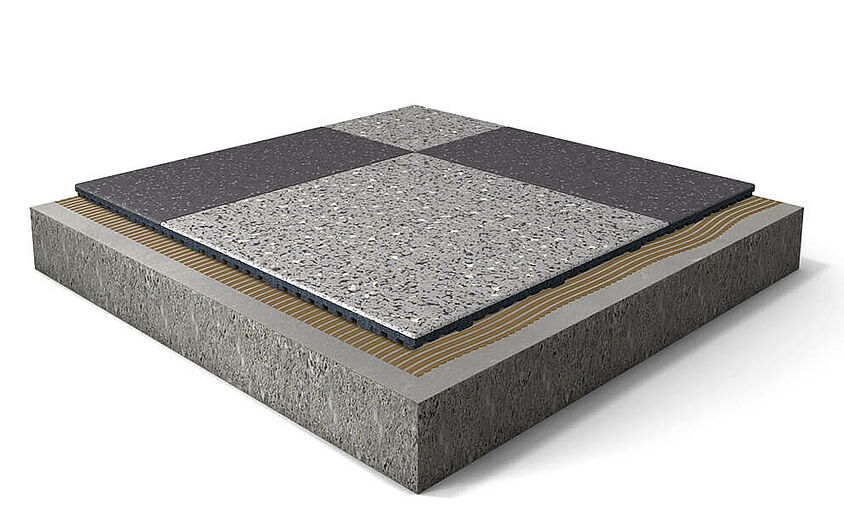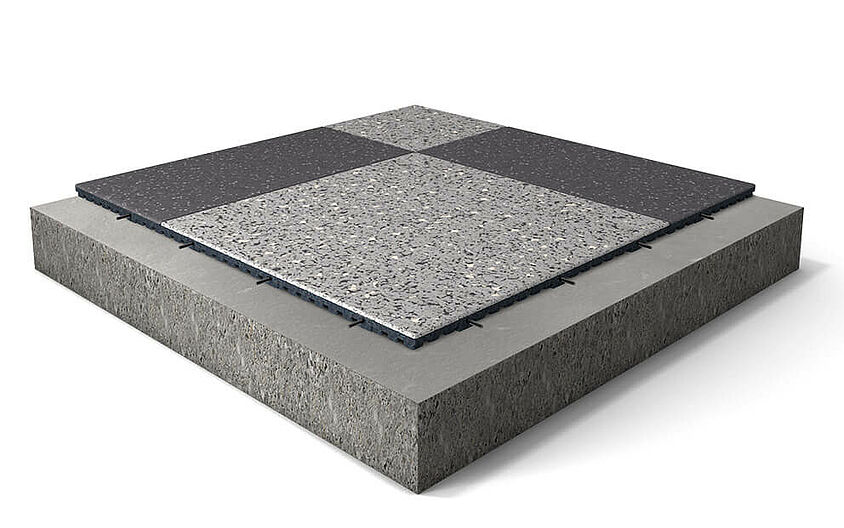 Color and pattern selection
REGUPOL Chromalab ™
Try out styles, colors, and textures to create a one-of-a-kind floor.
Features
---
Waffle bottom underside provides excellent shock and impact absorption, drainage, and cable routing
Modular design allows for quick and easy repairs and replacement
Comfort underfoot
Suitable for high impact activities
Gouge, dent, and scratch-resistant
Slip resistant, wet or dry
Easy to clean and maintain
Superior shock and sound-absorption
Wear and scuff resistance
Technical Specifications
---
Standard Tile Dimesions
1-in x 24-in x 24-in
Standard Tile Weight
18 lb/tile
Standard Reducer Dimensions
1-in x 4-in x 48-in
Standard Reducer Weight
4 lb/reducer
ADA Reducer Dimensions
1-in x 12-in x 48-in
ADA Reducer Weight
14 lb/reducer
Coefficient of Friction
> 0.95 according to ASTM D2047
Force Reduction
< 50% according to ASTM F2772
Colors
17 standard colors with custom color and logo capability
Acoustical Data
6" concrete slab and REGUPOL AktivPro

STC 54 per ASTM E90
IIC 57 per ASTM E492
∆IIC 27 per ASTM E2179
Your contact at REGUPOL
We're here to help.
Matthew Montano
REGUPOL America LLC
Sales Manager
go back